June 4th, 2009
When I think of Hapari I think "happy" and not just because the two words sound so much alike. Swimsuit season always brings with it a few nasty side effects: the dreaded glare of the fluorescent lights in the dress room; the shock of pale white skin; the sheer exhaustion of trying on numerous suits to finally find one you like well enough to wear in public. Okay, I'll stop there before I break out in hives!
Fortunately I've discovered a line of swimsuits sure to turn this year's swimsuit shopping into a much more pleasant experience. Hapari Swimwear offers a fabulously stylish, flattering-yet-modest line of tankinis and bikinis sure to keep those nasty side effects at bay. You can mix and match any bottom with any top and every tankini top can be worn three different ways: halter, tank, and criss cross!
Though their two most popular tankinis are the GNO V-neck tankini (pictured above, left) and the Mango Mudd Sport tankini (pictured at right), I chose the Blue Luau V-neck tankini (v-neck styles look better on me since I have broad shoulders) with the coordinating bottom to test for this review—I just couldn't resist the red with white polka dots! I had totally planned to wear this while visiting my girlfriend in Florida but it rained all but one day I was there, and the one day we went to the beach I was going for all the sun I could get (i.e. I wore my tiniest bikini—and fried my stomach in the process, but that's another story!).
I did try on the suit and found myself actually enjoying what I saw in the mirror rather than cringing from it. The suit fit really well and was truly flattering. I could tell it was made from high-quality fabric and with high-quality construction. I also checked out one of Hapari's unique features: pockets for silicone breast inserts or "Illusions." If I want to look anything like the model in the picture I better pick up a pair!
Hapari also has swimsuits for men and junior girls and boys. One other fun fashion find from Hapari is their Shores line. Shores is a collection of half tees that "provide a comfortable layered look without the extra bunching and bulk of a full-length layered tee." I am really excited about this tee and here's why. I have a couple dress under which I have to wear a cami or layering tee and every time that tank or tee starts riding up under my dress. By the time a couple hours have passed my waist looks twice as thick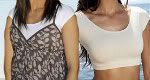 as it did when I first got dressed! I'm constantly going into the bathroom to pull it back down. So if your first thought of Shores was mine ("a half shirt? didn't those go out of style a long time ago?") I beg you to think twice. With summer's full-on heat almost here do you really want multiple layers over your entire torso?
I believe a good swimsuit is worth the investment and Hapari Swimwear makes more than a few good suits. If you are looking for stylish tankini swimwear visit Hapari.com. Money may not buy happiness but a good swimsuit sure will!—Emily
*** Giveaway
Hapari Swimwear is giving away one tankini and one Shore tee, winner's choice! Please visit Hapari.com and leave a comment telling us your favorite swimsuit style. Please include a valid email address for our drawing. We'll draw the winner from the comments and contact her via email. Deadline: June 12, 2009 (midnight). The winner will have 24 hours to claim her prize or a new winner will be chosen.
Congratulations to Lisa S., the winner of the Hapari giveaway! Thank you to everyone who took the time to read the review and add a comment. Keep reading the Daily Dish for your chance to participate in more giveaways!
43 comments on "
Hapari makes swimsuit shopping a happy experience

"
Leave a Reply