June 3rd, 2009
I stopped burning candles regularly after living in an apartment when I found soot collecting on my walls and ceiling—and I didn't even burn candles that often or for that long! Though I still light them now and then on special occasions (when the kids aren't around to blow them out), I prefer a candle warmer to a lighted wick when it comes to daily candle use.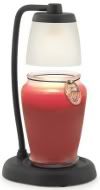 Some of you may grimace at the idea of a candle warmer; you're picturing the sterile white, totally un-chic candle warmers of the past. I admit that's the kind I used to have until Candle Warmers, Etc. sent me the newest addition to their candle warmer line, the Contempo Candle Warmer Lamp. At first glance you'd think this was a stylish-yet-functional reading lamp of sorts, but it is really the most awesome of candle warmers. I've had this baby plugged into the wall socket in my kitchen since it arrived and it hasn't moved since! The Contempo Candle Warmer Lamp comes in four finishes: black, brushed nickel (my choice), oil rubbed bronze and vintage brass. The brushed nickel matches my kitchen faucet and the hardware on my cupboards perfect, and I love that the base doesn't get hot like my previous warmer.
My favorite part about the Contempo Candle Warmer Lamp isn't that it has successfully warmed every size candle I own but that it adds beautiful mood lighting to my kitchen in the evenings. It gives off this super cozy feeling when I'm sitting at my computer late at night and pop into the kitchen for a late-night snack. It's so homey without being homely (sorry, sterile, white, so-not-chic candle warmer!) and is the perfect way to keep soot build-up off your walls.
I also love the Illumination Fragrance Warmers and the Ceramic Candle Warmer & Dish combo. Candle Warmers, Etc. has one of the most stylish selection of candle warmers and accessories I've seen. I'm one that's usually all about the burn, but that's when it comes to working out. When it comes to candles I'm all about the warm!—Emily
* Promotion! Candle Warmers, Etc. is offering Daily Dish readers 10% off their purchase! Simply enter code BP10 when checking out; offer expires June 30, 2009.
Leave a Reply