April 29th, 2009
Okay, I am about 99% sure this will be the coolest review of 2009. (Hey, I can't see past July on the schedule so you never know!) I am 110% sure it's the coolest review so far! And I used one of my Flip Mino—one of my most favorite reviews—to help vlog about how cool the HP Vivienne Tam Edition makes me look amazing the HP Mini 1000 Vivienne Tam Edition is and how much I love it…and my daughter loves it, and my husband loves it, and my babysitter loves it and all my Twitter girlfriends love it… It is THE must-have gift for Mother's Day!
First let's judge this notebook by it's cover. The HP Mini 1000 Vivienne Tam Edition (I call her Vivi for short) is a digital clutch by award-winning designer Vivienne Tam. The cover features a peony design in scrumptious violets and reds, which you can find throughout her Spring 2009 collection. I only just found out the colors represent happiness, prosperity and good fortune in the Chinese culture. The "Enter" key even features the double happiness symbol! (So that's what that symbol means!) If the case weren't yummy enough, the Vivi comes with it sown protective Vivienne Tam silk sleeve…this baby has more silk than my closet!
This mini-me version of a laptop (aka "digital clutch") is only 10 inches long by 6.5 inches deep by less than 1 inch high and less than 2.5 pounds. The Vivi features a 10.1-inch diagonal HP Brightview Infinity widescreen display, HP Mini webcam, integrated mic, stereo speakers and a 92% full-size keyboard. But would I find substance when I looked beyond its chic and sexy exterior? Do runways have models?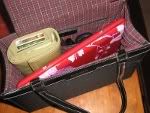 Inside the Vivi you'll find Microsoft Windows XP, an Intel Atom processor, 60GB of hard drive space, WiFi and Bluetooth. (Yes, I sound like I know what I'm talking about but it's more my husband telling me all this stuff is super nifty.) There are a slew of other impressive features but I'm all girl and get distracted by pretty things. You're lucky I looked further than the peonies!
Here are my top five faves about the HP Mini 1000 Vivienne Tam Edition and my top five non-faves:
Love

Design: Hello! It's Vivienne Tam!


Size: Fits perfectly in my Kate Spade knock-off (see photo above).


Weight: Feels heavenly compared to my diaper bag.


Windows XP: Beats Vista an ol' day. (If you want me to convert to Mac feel free to send me an iBook for review…)


Bluetooth/wireless: I look so cool typing away while noshing at Blue Lemon Bistro (see photo below).


Didn't love

Key symbol color: Don't get me wrong, the red keys are fabulous, but the dark gray used for the key symbols is fine in daylight but makes it really hard to see in darker settings (like Twittering while watching Celebrity Apprentice at night; see video).


Silk sleeve: Yes, it's silk, but it is also a bit too large for the notebook. It needs to have a more snug fit and some way to secure it closed.


Envious people: Everyone wanted a piece of my Vivi and it made me rather uncomfortable.


Suboptimal handbag: I'm still on the lookout for the perfect handbag to complement the notebook. It may cost me a couple hundred dollars to find one.


Okay, couldn't come up with number five, and as you can see numbers three and four were a stretch anyway!


Using the aforementioned Flip Mino I put together a video documenting life with my HP Mini 1000 Vivienne Tam Edition. I have used it more than the few minutes you glimpse in the video and I'm sure it would've been three times as long if this review had been scheduled post BlogHer '09. But you'll enjoy catching almost the entire family involved with Vivi, including my husband. (Should I be worried?
)
And the picture below? My daughter, who asks me almost daily if she can use my Vivienne Tam. Her expression, which you might recognize from the video, shows exactly how I feel when I'm typing away in such chic and sophisticated style…even in my pj's. The runway-meets-everyday HP Mini 1000 Vivienne Tam Edition is the perfect Mother's Day gift!
4 comments on "
The HP Mini 1000 Vivienne Tam Edition: The hottest clutch to hit the runway!

"
Leave a Reply