January 28th, 2009
"We can't fix what's inside your closet or restore your body, or jump-start your mommy-mush brain but we CAN stylishly put you back together when communicating with the outside world!" What? I'm supposed to communicate with the outside world? I have four kids and tend to stay at home in my pj's until at least noon. Okay, it's not that severe but I will admit my correspondence with friends, family and acquaintances could use some style. HauteMammas totally understands.
HauteMammas.com helps you create custom calling cards (okay, I SO want a calling card!), note cards, thank-you notes, permission slip pads, address and gift labels, babysitter pads and even pet sitter notepads. Okay, I'm not a pet lover but I'm almost considering one just so I can use a pet sitter notepad! I received samples of their gift labels, a set for gifts from me and a set for gifts from the Hill family.

To be honest, the Pink Pump gift label was not my style but I loved the fun design of the Enjoy Wave for family gifts. I was determined to see past the stiletto and check out HauteMammas other designs and I'm glad I did! I found a ton of designs I thought were super cute like the Spring Dots, Enjoy in Le Fleur Blue (tag rather than label) and the Merry Christmas Red & Green Dots. Once I saw those I moved on to the calling cards, and yes, I just HAVE to have one of these, especially the Pink Sorbet Polka! How great it would be to have something to give to playdate moms and family friends. Sure beats scribbling your name down on a scrap piece of paper (grocery store receipts in my case).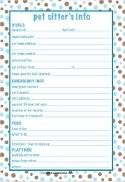 I checked out HauteMammas' pet sitter notepads—there's even a space for detailing play time! And for those of us whose pets consist of toddlers and pre-teens, the babysitter pad outlines everything your sitter needs to know…and then some. I would have liked a few more options in the thank-you notes and note cards, but the site has enough other fun products to keep my happy.
Your New Year's resolutions may not have included a stationary makeover but it's still the perfect time of year for one. Show off your hot momma style with some help from HauteMammas.com!—Emily
* Promotion! HauteMammas.com is offering Daily Dish readers 10% off their order. Simply enter code "Cafe 10" at checkout.
Leave a Reply