January 6th, 2009
We all love a good superhero. My current personal favorite is Ming-Ming from WonderPets. (Can you tell who's in charge of the TV lately?) But what does a superhero have to do with outerwear? If you've ever struggled to secure your little one in her car seat complete with winter coat or even slightly less bulky pullover sweater you know it often requires superpowers to adjust a five-point harness without compromising safety. Never fear! Babycapes are here!
Babycapes were created by two moms, who faced the similar struggle of trying to get their busy baby girls into car seats with bulky winter coats. The Babycape has a generous front opening with three snaps so it's easy on/easy off and allows you access to harness straps. It has a cozy hood and openings in the sides for little arms, but the pièce de résistance is its back opening with a single snap. When open it lets you easliy slip your child into a stroller, car seat or front carrier without removing the Babycape, and when closed it makes the perfect outdoor cover-up.
Olivia and I were able to test the pink Minky Sherpa Suede Babycape during the Christmas holiday. I couldn't wait to see if it were as easy to use as it appeared, but I was even more interested to find out if it would keep her warm even in frigid weather. I will admit it took us a few tries to get the hang of the Babycape. (Perhaps if I'd watched the instructional video on the website like any smart person would do, I'd have got it the first time!) Our first attempt we put it on her in the house, slipped her arms through the arm holes and quickly realized we had to take her arms out in order to get her arms under the harness straps. Then we put her arms back through and adjusted the cape around here. Olivia, who isn't the best traveler anyway, was a bit flustered by the time we were done and none too happy.
When we tried it again and left her arms under the cape she got a bit frustrated having her arms covered, but at least it was easier to get her in the car seat! And even in 20-degree weather she stayed toasty until the car's heater took over. Because we had a bit of a struggle the first few times using the Babycape I almost gave up, but when we tried it today, Olivia and I both seemed to finally get it! She kept her arms under the cape until I had her in the car seat. I of course didn't realize until now the generous front opening was for me to use to adjust the harness straps. I was flipping the cape up to secure her, which she thought meant it was time to pull the Babycape completely off!
Now we're becoming seasoned pros at the Babycape thing and I am slowly falling deeply in love with it. It really is a much safer alternative to a big winter coat and it is less hassle than a coat and blanket, which is what we were using (and the blanket was always just as cold as the car!). The Babycape is to die for when it comes to style and design and it is super soft to boot. Today I caught Olivia turning to look up into her hood and smiling at who knows what. (I think she was smiling because she too had fallen in love with her Babycape.)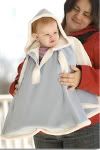 I love that the moms behind Babycapes are just as interested in making sure your child is safe as they are in telling you about their product. They've dedicated an entire page of their site to safety information complete with a safety video and links to sites with more information about car seat safety. When a company is as concerned about your child as you are, you can rest easy knowing their product was designed with your child's safety and comfort in mind.
Babycapes are custom made and assembled in the U.S.A. They come in a wonderful array of luxurious, machine-washable fabrics such as Marshmallow Minky, Minky Sherpa Suede (love how that rolls off the tongue) and Minky Cuddle. And because one size fits newborn to preschooler, you won't have to purchase a new coat year after year. Those Babycape moms have thought of everything—talk about superheroes!
The weather is still frightful, at least in my neck of the woods, and Babycapes will come in handy for a few months yet. I suggest you pick one up now, especially since through January 31st. Considering Babycapes last a good 3-4 years, that's less than $30 a year…a heck of a lot cheaper than your typical winter coat and a heck of a lot safer in a car seat. Comic books and movies will tell you, the superhero is always a safe bet!—Emily
*** Giveaway! Babycapes is giving away one Babycape, winner's choice! Please leave a comment telling us your favorite Babycape (color and style); include a valid email address for our drawing. We'll draw the winner from the comments and contact her via email. Deadline: January 14, 2009 (midnight). The winner will have 24 hours to claim her prize or a new winner will be chosen.
* Congratulations to Leah F., the winner of the Babycape giveaway! Thank you to everyone who took the time to read the review and add a comment. Keep reading the Daily Dish for your chance to participate in more giveaways!
66 comments on "
Babycape–the superhero of winter coats!

"
Leave a Reply