December 18th, 2008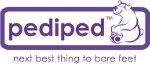 This will be my third time featuring pediped on the Daily Dish. I just can't get enough of these shoes! Our first review was April of 2007, and then we featured their new Flex line 10 months later in February of 2008. Here we are again, 10 months later, and I haven't run out of good things to say. My kids are still loving their shoes and I am still one of their biggest fans.
This time I wanted to showcase what I call pediped's party shoes. No, they don't specifically have a party line, but they totally could. I was sent the original Naomi in silver for our little Livi. Though the Isabella is my most favorite of their dress shoes, the Naomi runs a close second (and goes with more outfits). Livi was too young to have an opinion about her red patent Isabellas but when she saaw the Naomis through the window of their gift box, she immediately went over, opened the box and took one out. If that weren't cute enough she then turned to me and handed me the shoe so I could put it on her. Livi didn't care that they were still a little too big. She was off and running (well, toddling…she is only 16 months) in her Naomis and protested much when she had to take them off for naptime. She might be their next biggest fan!

Looking at the Naomi and the Isabella, you can tell pediped shoes are big on style but did you know they are also big on comfort? pediped Footwear promotes quality foot health and development and the company has been awarded both the American Podiatric Medical Association's Seal of Acceptance and recommended as a top footwear choice in the 2007 Consumer Reports Best Baby Products Guide.
So why is pediped a dream come true? Because they have partnered with the Make-A-Wish Foundation to helping grant the wishes of terminally ill children. pediped is making dreams come true by offering a very rare promotion on its website. (Rare because this is only the second time the company has made such an offer.) From December 17th through the 31st, pediped is reducing the price of select footwear and will donate 50% of the sales from these shoes to the Make-A-Wish Foundation.

This is the first time pediped has partnered with the Make-A-Wish Foundation and through its fundraising efforts the company has already raised over $87,000, enough to grant the wishes of 12 children with life-threatening medical conditions. You can view some of the granted wishes and keep up to date on pediped's goal by visiting the Make-A-Wish page on their website.
This special online fundraising event is good only through the end of December. You can learn more about this fundraiser and view the select footwear at pediped.com.—Emily
One comment on "
pediped Footwear: a dream come true!

"
Pingback: Boutique Café » Blog Archive » Flexin' our feet with Bear Feet Shoes {GIVEAWAY}
Leave a Reply