October 26th, 2008
Sigh…sometimes reviewing natural skincare products, especially those that cleanse, hydrate, detoxify, regenerate and repair without parabens or harsh ingredients, is the toughest part of my job. It's right up there with reviewing Italian shoes and designer diaper bags. (And if you believe that I have some ocean-front property in Utah that would make the perfect Christmas gift.)
Reviewing Zia Natural Skincare's new Skin Basics line was not a tough job by any means. I received their Fresh Cleansing Gel, Sea Tonic Rosewater & Aloe Toner, Everyday Moisturizer, Essential Eye Gel and Citrus Night Time Reversal. I have now used them for almost two weeks and even though I might not be the best test subject (I have normal skin with only a few fine lines and the slightest acne that hits only once a month), I can tell a difference. My skin has retained its moisture, which is saying a lot considering I live in Utah and the cold weather sucks the moisture out of everything around here, and it has a bit of a healthy glow even though my Kauai tan has already faded and gone.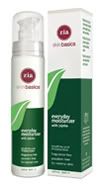 The Fresh Cleansing Gel is a non-foaming cleanser (I'm still trying to get used to the non-foaming part) with mineral-rich sea algae. I've heard a lot about the benefits of algae but had no idea you could find them in a cleanser! The gel also has natural sugars to remove excess oil and makeup and is excellent for sensitive skin. I did find I needed to do double duty on eye makeup as it didn't get it all off the first time around, but that happens often with other cleansers. I did just learn you can also use the Fresh Cleansing gel for shaving—now that's a moisturizing gel if you can shave with it!
After cleansing I spritzed the Sea Tonic Rosewater & Aloe Toner, which has natural phospholipids to hydrate skin. This phospholipids actually enhance the effect of moisturizers, so you spritz and then apply your moisturizer before it dries. And if you have delicate skin the aloe vera and rosewater help soothe and heal.
In the morning I used the Everyday Moisturizer, a very lightweight and fragrance-free lotion. Rice bran oil, shea butter and aloe maintained my skin's softness and hydration without being greasy or heavy—a good thing since my foundation tends to be on the heavier side. The sample I had did not have sunscreen, which is an extremely important feature I look for in a daily moisturizer, but Zia does offer an Everyday Moisturizer with sunscreen and I would highly recommend purchasing that one instead.
At night I used the Citrus Nighttime Reversal, an alpha hydroxy cream that is supposed to reverse roughness and environmental damage while you sleep. It uses four natural alpha-hydroxy acids to clear pores and diminish signs of aging and contains red wine, buttermilk, sugar cane and whole citrus concentrate to promote new cell production while helping minimize lines, sun spots and enlarged pores. Now that is a lot of work for a nighttime cream to do, but I do think it is what has helped give my skin its healthy glow. Even with what little sleep I've been getting and the stress I've been under, my skin looks younger than it has in a long time!
My nighttime routine ended with a little Essential Eye Gel, which uses green tea, cucumber and seaweed to help firm and hydrate while smoothing puffiness and fine lines. It also contains aloe and antioxidants to help fight damage and improve skin health. Though I found this eye gel to give my eyes an instant firming and hydrating, it didn't seem to have the lasting overall effect like my other favorite eye creams. But it is definitely a great tool to have on hand for those morning-after eyes (or "long day working, doing laundry, cleaning and cooking and still have to look good for the company party" eyes).
Okay, it's not really a tough job to review skincare lines like Zia. Actually, I have enjoyed it so much I'm kind of anxious to try out some of their other products like their Ultimate Eye Cream and Fresh Papaya Enzyme Mask. With freezing temps around the corner a little skin therapy sounds like a worthwhile investment!—Emily
Leave a Reply