July 17th, 2008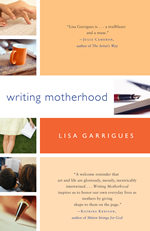 I jumped at the chance to review Writing Motherhood on Boutique Cafe's Daily Dish for two reasons: one, I am a mother, and two, I love to write. Both mothering and writing are still a work in progress so I was anxious to read what insights, advice, tools, and guidance had to offer me. It had all that to offer with an added kick in the pants to start writing again (not easy to do when a recent manuscript has already been rejected numerous times).
I have not made my way through the entire book, and I've learned it's not the type to be read cover to cover in one sitting. The book is a tool and a guide to help intertwine writing and mothering, teaching readers like me that inspiration can come from the everyday. I usually have a bit of a harder time reading non-fiction books but the author Lisa Garrigues' wit and writing style (no surprise) had me from page one. Here are a couple passages I've starred in my copy so far:

Garrigues' take on the students (a.k.a. moms) from her first writing class:
My first Writing Mothers arrived feeling physically exhausted and emotionally spent—in some cases 'brain-dead,' their imagination and creativity anesthetized by the rigors and routines of daily life. (Sound familiar?)
Her thoughts on taking the first step:
Carl Jung would call it synchronicity. A priest might call it fate; a romantic, serendipity; a skeptic, luck. However you choose to explain this phenomenon, know that one step always leads to athe next. This is how mountains are scaled, deserts are crossed, and whole journeys are made. (Feeling inspired?)
Garrigues, a writer and a mother, takes what seems like an overwhelming task at times and turns it into a welcome journey. An excerpt from put it perfectly:
Whether you are a new mother or a grandmother, someone who has long aspired to write or someone who has never written before, in Writing Motherhood Lisa Garrigues will show you how to use writing as both a tool for recording your life and a path to understanding your experiences. In just fifteen minutes a day, your Mother's Notebook will be a keepsake, and your daily writing will keep you sane.
Are you ready to recapture the sanity you thought was lost long ago? Me too. Take a minute to read a little more and . I guarantee it won't be long before you're standing in Barnes & Noble picking out the perfect Mother's Notebook. I'm planning to go tomorrow.—Emily
** Giveaway
Simon & Schuster is giving away 10 copies of ! Please leave a comment with a valid email address for our drawing. We'll draw the winners from the comments and contact them via email. Deadline: July 25, 2008 (midnight). The winners will have 24 hours to claim their prize or a new winner will be chosen.
* Congratulations to all ten winners of the Writing Motherhood giveaway! Thank you to everyone who took the time to read the review and add a comment. Keep reading the Daily Dish for your chance to participate in more giveaways!
112 comments on "
Writing Motherhood helps moms put pen (or pencil) to paper

"
Leave a Reply