June 4th, 2008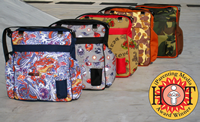 ...and the result is a totally cool, totally edgy bag even Dad will think is hip enough to tote around town. Skooch's Mix It Up and Groovy collections received positive reviews on the Daily Dish before and their new Urban Cool collection will make it three for three. Not only does the new line have a slew of great features (I'll get to those in a moment) but this one is also award winning as a distinguished "Celebrated Winner of the iParenting Media Awards" for the 2008 Excellent Products Call. An award-winning, edgy, "urban cool" diaper bag? Sounds like the perfect Father's Day gift to me!

Before I get to the extensive list of features I have to mention the five cool designs in the Urban Cool collection. You've got Camouflage and Desert (definitely masculine; my favorite for Dad is the Desert) and 3 tattoo-inspired prints: Hearts of Love, Skulls and Flames, and Samurai Dragon (my fave). I love Skooch's take on the tattoo-inspired prints:

So you spotted a cool looking tattoo on the girl next to you on the train or on the guy in the park… But oh, the pain and will you love it in a few weeks let alone a few years… Let's just say you can't start all over… Not to worry! With these new…diaper bags from Skooch, there's no pain, no commitment and they look darn cool!"
That's my kind of tattoo—no commitment and especially no pain (probably why I've only gone as far as rub-on ankle tattoos in the summer).

The features on this bag are just as cool as the designs. You've got a water-repellent nylon face and lining, polished quality nickel hardware, adjustable shoulder strap with the most awesome, almost hidden rubber feature to keep the strap from slipping (hallelujah!), 2 front patch pockets, an easily accessible cell phone pocket (big seller for me), 2 side bottle pockets, and a large yet somehow compact back pocket to hold an oversized changing pad (nice!). The inside, which opens in a snap with a double-sided zipper pull, boasts an 11" inside zipper compartment, 2 very roomy patch pockets, and 2 extra spacious pockets for whatever remaining necessities you have that for some reason don't fit into the other 10 pockets! (One feature I wish it did have are those little metal feet on the bottom. Oh well!)
My favorite feature, which I noticed before anything else when I checked out the Samurai Dragon bag, is how easily these Urban Cool bags convert to stroller bags. The straps are actually sewn on and hidden away in the large back pocket. Simply pull them out, slip them around the stroller handle, and attach to the other side of the bag. I absolutely love that I don't have to go digging for a separate set of stroller straps, often hidden in the very last pocket I check, and then attach the straps to the stroller before I can attach the bag to the straps! I think Skooch's design is pure genius!
The only hesitation I have in recommending Skooch's new Urban Cool diaper bag as a great Father's Day gift is the possibility of its creating tension among family members. The design is so fun and funky you may find your teenager wanting it as his new book bag or you claiming it for the gym. If you all aren't willing to share, all I can say is good luck! (Skooch diaper bags can be purchased online at Rosenberry Rooms.)—Emily
Leave a Reply