May 21st, 2008
Besides the handful of cool strollers and a few other products here and there it's not often my husband takes notice of the products I review on the Daily Dish (unless, of course, I walk around the house flaunting my new Wallaroo hat…look for that awesome find in a couple weeks!) . But when TrioArt Stationary sent samples of their whimsical and fun product line, he took notice, especially since they sent him his own "manly" yet super cool personalized stationary. And I know for a fact he's already used it!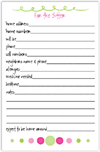 TrioArt actually has delighted everyone in our family. My oldest daughter couldn't wait to use her personalized enclosure card for her friend's birthday gift and my second oldest daughter was excited to have her own notecards (a great way for the middle child to feel like an only child!). My two-year-old had his own cool luggage tag, which he proudly put on his My Bag, and TrioArt even had something for our baby: personalized sippy cup and bottle labels! But I think the TrioArt goodies for me were even better because they included an awesome babysitter's notepad, which had a generous size and room for notes. I find most babysitter's notepads have room for less important items and leave little room for all those random thoughts you have to jot down just before rushing out the door.
There's just something about TrioArt that puts a smile on everyone's face, and perhaps it's because of the designer behind TrioArt:

...I listen to your needs and find the right images and message to create a meaningful product specifically designed for you. ... I draw inspiration from my children, nature, fabric, vintage finds, interior design, architecture and fashion. I believe in following your passion, giving with your heart, and accepting life with joy and gratitude.
Personalized stationary makes a wonderful, unique gift and
TrioArt
will make that unique gift simply perfect! Good luck trying to choose just one design; fortunately the prices are just as delightful as the product line.
Oh, and if you need help creating your design TrioArt offers some
wording ideas
to help the creative juices flow. Father's Day is coming up, and what would be more fun than to give Dad something he can truly call his own?—Emily
* Promotion! TrioArt Stationary is offering Daily Dish readers a free gift with purchase! Receive one of their super nifty large grocery pads (a $10 value!) when you enter code "grocery list" at checkout. NOTE: I LOVE this notepad; it groups your groceries by type—super handy! Offer expires June 30, 2008.
Leave a Reply