April 27th, 2008
Just over a year ago I did my first review of Amy Michelle diaper bags. For the review I created the word "chic-tionality" because the bags were truly both chic and functional. I have been super excited to review Amy Michelle's new Chic and Street lines since I got a sneak peek November of last year, and if it's possible to be more than super excited, I am just that about the Gladiola bag from their new Chic line.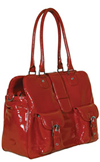 I've had my red patent Gladiola bag since the beginning of February and except for the occasional date night I've taken it everywhere. I've even used it without baby in tow! (Can you say that about your diaper bag?) This bag has got chic-tionality written all over its yummy red patent design. Features for mom (aka me) include handy credit card slots, a zippered pocket, key ring, and easy-access outside side pockets for cell phone, keys or that power bar I so often need. Features for baby (but really, still for mom) include a washable changing pad, lots of internal and external pockets, a quick-release pacifier holder, compartments for diapers, wipes, and at least five to seven packs of fruit snacks, and stroller attachments (included).
My most favorite things about the Gladiola bag—besides the delicious red patent with champagne lining—are the stylish silver buckles on the I-can't-believe-they-hold- that-much-stuff front pockets, the roomy interior, and its weight. This diaper bag is just over two pounds so you can haul a lot more stuff without throwing your back out of alignment. You wouldn't think this bag were that lightweight with its sturdy construction and numerous features, but it is, and I probably love that most of all!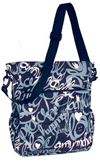 If you're not that into red the Gladiola bag comes in black patent (red lining) and a rich chocolate jacquard (champagne lining). But I can't wrap up this review without mentioning the Sweet Pea tote, also from the Chic line (more of a slouch-style bag). And for those of you looking for a smaller, on-the-go diaper bag, you'll love the new Street collection. This chic-tional shoulder bag converts to a backpack and comes in Broadway (my favorite with its graffiti style), Madison Avenue, and Rodeo Drive lines. Amy Michelle diaper bags—chic-tional never looked so good!—Emily
Leave a Reply