April 24th, 2008

With childhood obesity on the rise I'm glad there's someone like Amy Roskelley, a stay-at-home mom who is children about healthy eating habits through her company Super Healthy Kids. How has she made mealtime fun AND healthy? With her fabulous Healthy Habits Plate.

Roskelley is a mother of three with a degree in Health Education and eight years experience working for the Utah Health Department, so she's definitely someone you want on your side when trying to teach your children that eating healthy is as easy as 1-2-3. And when I say 1-2-3 I'm talking about her new Healthy Habits Plate, which has three sections: fruits and vegetables, breads and grains, and meat and dairy. Each section is sized according to the correct portions and has colorful pictures of the foods belonging in that part of the plate.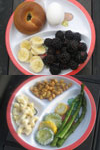 We now have a Healthy Habits Plate and it is everyone's favorite! I love that by using it often my kids will learn—by habit—the correct portion sizes for mealtime. They can even dish up their own meal (with a little help from Mom, of course). The only thing I don't like is we have only one Healthy Habits Plate…and four kids. The odds are not in Mom's favor. If you look at the plate closely you'll see about half of the meal is made up of fruits and veggies, and that's just how it should be!
Entice your children to eat healthy and pick up a Healthy Habits Plate for everyone in your family. At less than $6 it's an affordable investment in your child's health. Super Healthy Kids also has some great tips and ideas for incorporating more fruits, vegetables, protein and grains in your children's diet. By the way, I think Roskelley ought to come up with an adult-size plate. Even at 30-something my portion control could use a little help (and I should probably finally learn dessert is not a requirement at every meal).—Emily



** Giveaway!! Super Healthy Kids is giving away one Healthy Habits Plate! Please leave a comment telling us your favorite fruit or vegetable (include a valid email address for our drawing). We'll draw the winner from the comments and contact her via email. Deadline: May 2, 2008 (midnight). The winner will have 24 hours to claim her prize or a new winner will be chosen.
** Congratulations to Jenn O., the winners of the Healthy Habits Plate! Thank you to everyone who took the time to read the review and add a comment. Keep reading the Daily Dish for your chance to participate in more giveaways!
186 comments on "
Super Healthy Kids makes mealtime fun AND healthy!

"
Leave a Reply