April 16th, 2008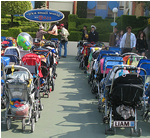 Ever try to find your stroller among a sea of nearly identical strollers (think amusement park, train ride at the zoo, play areas in the mall)? It's kind of like fishing the right black travel suitcase from bag claim at the airport—nearly impossible unless you've tied a bright pink ribbon on the handle. I've got a better solution for you than that hot pink ribbon: BabiePlates, the latest must-have baby product from Sweden!

BabiePlates are personalized with a name or phrase (my personal favorite: GO BYU!) and birth date. Or instead of a birth date you can add baby's picture, one of BabiePlates newest features. (Their other new feature is safety reflector foil.) I ordered one for our daughter and couldn't wait for it to arrive. When our BabiePlate finally arrived it was even better than pictured. It was made with close attention to detail and quality (hence the 2- to 3-week wait) and I knew I had found that latest stylin'—and personalized—must-have baby gift.
Our BabiePlate currently has a place of honor on a shelf in my daughter's room. I have yet to pimp her ride since she's usually doubling with her brother—I now need to order him one too! Though the most popular use for BabiePlates is on strollers you can also put them on a bedroom door, wall, or shelf, or attach them to motorized toys, wagons, or go carts. I've heard even some companies are putting their logos on BabiePlates—a fun idea if you want to spread the word about your business in a fun, unique way. BabiePlates are a great accessory no matter how you use them!—Emily
* Promotion! BabiePlates is offering Daily Dish readers 10% off their order; simply enter code "bc" at checkout.
Leave a Reply