February 13th, 2008

When it comes to bibs you've got a lot of choices (a few of which we've reviewed here on the Daily Dish). A lot do a pretty good job at coverage but DaBib is the first bib I've seen with a design that not only keeps food from falling through the collar and behind the bib but also gives you an optional crumb catcher. Yes, I said optional!
First, how does DaBib keep food from sneakily making its way behind the bib and onto your child's clothes? DaBib has a patent-pending scrunch collar that fits so snugly yet comfortably around the neck I doubt even the slimiest drool could slip past it. It is also easily adjustable, which means baby won't outgrow this bib after her Stage 1 food! Yay!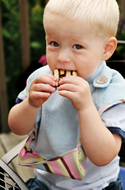 Second, what about that "optional" crumb catcher? The crumb catcher is actually hidden behind the bib until you fold it forward. Ingenious! Of course the design has led a few to think DaBib is reversible… Though you're welcome to reverse the bib, just know you'll have a bit of a hard time attaching the collar. No need to reverse it when a simple fold-over will do!
I've been testing DaBib's two designs, Hugs and Giggles, and I'm seriously considering tossing my old bibs and stocking up on more of these. Both have a larger size and a generous hourglass shape that means shoulders are covered when baby is looking left and right at everything going on around her. (Tell me this happens at your house too…) And I love the fun fabrics in solids and stripes; all have a waterproof layer and are non-toxic/lead-free. We've used the Hugs bib the most because it has an absorbent front and waterproof back, which is ideal for my 6-month-old (who seems to spit out half of every bite) . Their Giggles bib is a waterproof bib that wipes off super easily—super cool! Both bibs are machine washable, and trust me when I say they stand up well to frequent washings!
With its stylish, got-you-covered design, hidden crumb catcher and scrunch collar it's no wonder DaBib recently won the iParenting Media Award, which rewards the best products in the market. If you ask me, I'd say DaBib is da best!—Emily
* Promotion! DaBib is currently offering free standard shipping on purchases of three DaBibs or more! Just visit their website and start shopping so you can stop the messes! Right now you'll get 10% off your order through May 15th. Use code "mom2008" at checkout!
** Giveaway
DaBib is giving away one DaBib to three lucky readers (their choice)! To participate in the giveaway, visit DaBib's website and tell us the DaBib (Hugs or Giggles) and the style you like best. Leave a comment about your fave DaBib with a valid email address for our drawing. We'll draw the winners from the comments and contact them via email. Deadline: February 21, 2008 (midnight). The winners will have 24 hours to claim their prize or a new winner will be chosen.
65 comments on "
DaBib's got your baby covered and your crumbs caught

"
Pingback: Boutique Café » Blog Archive » JelliBee Baby's super NEAT bibs
Leave a Reply