January 13th, 2008

This week is the last of our theme weeks dealing with New Year's resolutions, and we've saved the most worthy one for last. Today kicks off our "let's go green" (aka "let's promote peace") week. We all talk about being more environmentally friendly or supporting fair trade or human rights issues, so let's stop talking and take some action.

If you want to go green in style then PeaceKeeper Cause-metics is the way to go. PeaceKeeper is the first beauty company in history to donate ALL of is profits, after taxes, to women's health and human rights advocacy issues. The company does not test on animals and uses no harmful chemicals (FD&C or Lake coloring, toluene, formaldehyde, acetone, parabens, phthalates, sodium lauryth, mineral oil, etc.). PeaceKeeper uses natural minerals to color their products. But being "green" doesn't make for a suboptimal product. Their Lip Paints have been nominated as finalists for the Best Lip Product of the year alongside companies such as Lancome, Prada, Estee Lauder, and Shiseido. I was able to test PeaceKeeper's Nail Paint (ranked "the cleanest paint-based nail paint" by the Campaign for Safe Cosmetics) in Paint Me Stunning. Though it took a good 3 coats to achieve the desired effect, the final result was not only beautiful, shimmery pink toenails but the feeling I had done something good simply by giving myself a pedicure.

I'm a lip gloss junkie so I'm already planning to purchase PeaceKeeper's Lip Gloss. I'll have to purchase at least two, one each of their UNIFEM Lip Gloss (proceeds from this celebrity-endorsed lip gloss go towards the United Nations Development Fund for Women) and their V-Day Lip Gloss (proceeds from this gloss go towards the V-Day campaign to end violence against women). As PeaceKeeper says, "If we don't use our discretionary buying power to help heal the world, who will?"
Once you've empowered yourself (and other women) with PeaceKeeper Cause-metics you'll want a great accessory to go with that empowered smile, and Ten Thousand Villages has just the thing. Ten Thousand Villages is one of the world's oldest and largest fair trade organizations and works with over 100
artisan groups in more than 30 countries in Africa, Asia and Latin America to bring the rest of the world fair trade jewelry, home decor, and gifts.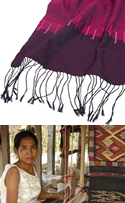 Ten Thousand Villages sent me their amazing Fringed Silk Scarf, a 100% handwoven silk scarf with a hand-embroidered design. The colors were shimmery and luscious, and I couldn't believe the scarf actually retailed for $34! The scarf was handmade in Laos by the Phontong Handicrafts Cooperative. (The cooperative weavers are also known for their basket weaving skills.) The traditional Laotian art of weaving was recently a dying art revived by the Phontong cooperative's craftswomen. Ten Thousand Villages has purchased handicrafts from the Phontong group since 1989. This is just one example of the many amazingly beautiful handcrafted items brought to us, via fair trade of course, by Ten Thousand Villages. I had the chance to go into a Ten Thousand Villages store while in Orlando a year or so ago. I came out with a fabulous Heart-Shaped Bead Choker, but if I'd had room in my suitcase I'd have brought home a few pillows, journals, and sculptures.
As silly as it sounds, every item from Ten Thousand Villages seems to have a special spirit about it. Perhaps it's because fair trade went into bringing it here, or perhaps it's because every item has a story; whatever the reason I feel good every time I wear that necklace. Ten Thousand Villages has something for everyone on your gift-giving list. Be part of a "worldwide movement striving to improve the livelihood of disadvantaged people in developing countries through the expansion of fair trade" all while staying within budget. It's a win-win situation for everyone!—Emily
Leave a Reply